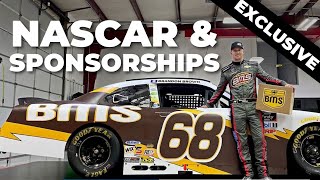 PlayVirginia.com has a reason to root for Brandon Brown in this weekend's NASCAR Xfinity Series race. Now, thanks to a special Odds Boost, you do too.
As it turns out, we are one of Brown's sponsors for Saturday's Go Bowling 250 at Richmond Raceway.
A Virginia native racing on his hometown Virginia track? It was a no-brainer sponsorship opportunity for PlayVirginia.com (we'll have more on that later).
Now, thanks to the fine folks at Caesars Sportsbook, we have a special Odds Boost opportunity for Brown's No. 68 Chevrolet.
Get up to $1,000 at Caesars Sportsbook
1
$1,000 first bet
On Caesars
Up to $1,000 Back as a Bonus Bet if Your Bet Loses
Stream NFL Games In-App for Free

21+ Gambling problem? Call 1-800-GAMBLER

Use Promo Code: LEGAL1000

Top-10 Odds Boost for Brandon Brown
Brandon Brown, a Woodbridge native, is based out of Fredericksburg with his Brandonbilt Motorsports team.
So, if you're looking to back a fellow Virginian for Saturday's race (2:30 p.m., NBCSN), he's your guy.
And better yet, if you want to bet a few bucks on one of our own, Caesars, one of the leading Virginia sportsbooks, is sweetening the deal.
Brown's best finish at Richmond came in his most recent race there. During the Sept. 12, 2020, race he narrowly missed the top 10 and finished 11th.
Can he improve by at least one spot and secure an elusive top 10 this year? If so, Caesars has boosted the odds from +800 to +900 for Brown to finish in the top 10. At those odds, a winning $10 bet would net you $90 in profit.
The offer is available to Caesars customers in nine states, including Virginia. Additionally, the max wager is $100. You can get to the betting market directly here.
And if you're feeling extra optimistic about Brown's chances on Saturday, you could bet on him to finish in first place for the first time in his Xfinity Series career. He's +30000 to win the Go Bowling 250. With those odds, a $10 wager would net you a whopping $3,000 in profit if he gets the checkered flag.
The current Go Bowling 250 favorites include Justin Allgaier (+350), Ty Gibbs (+350), and Austin Cindric (+600). Retired NASCAR Cup Series star Dale Earnhardt Jr., who's racing Saturday for his lone 2021 appearance, was originally available at 10-1 (+1000) odds. However, you can also now get an odds boost of +1200 for Jr. to finish first.
Extra playoff motivation for Brown
Saturday's race is the second-to-last one before the 2021 NASCAR Xfinity Series Playoffs begin.
Brown, who's 15th in the series standings, needs to get up to 12th place in the next two weeks to meet the postseason. Obviously, a good finish in Richmond could go a long way.
Plus, as he told PlayVirginia.com, it's always nice to do well "in front of Mom and Dad" and the local fans.
Brown has been enjoying a bit of a breakout season in 2021, with career highs in top 10s (seven) and top 5s (two). But the 27-year-old's success has extended beyond the track, and he's enjoyed some mainstream media attention due to his often-humorous off-track hustle for sponsors.
PlayVirginia.com hopped on board to help sponsor him for Saturday's NASCAR Xfinity race (as well as the Oct. 30 race at Martinsville Raceway). You can see our PlayVirginia.com logos on his car's quarter panels for Saturday's race. Additionally, we have some exclusive content with Brown and his team coming to the site in the next few days, so stay tuned to the site as we count down to Saturday's green flag.