Pick 3 and Pick 4 players have new options thanks to the latest offering from the Virginia Lottery: Fireball.
If you've checked out the results from recent VA Lottery drawings, you've seen a new number next to the Pick 3 and Pick 4 results. And no, they haven't expanded the twice-daily draw games to Pick 4 and Pick 5, respectively.
Instead, beginning on Monday, May 3, players can begin expanding their Pick 3 and Pick 4 play options with the optional Fireball.
With the Fireball add-on, your Pick 3 and Pick 4 tickets will cost twice as much. However, you can win an extra prize of $200 on Pick 3 with Fireball and up to $1,500 on Pick 4 with Fireball.
The Fireball payouts are in addition to the regular Pick 3 and Pick 4 prizes.
How to play the Fireball option
The Virginia Lottery's Pick 3 drawings and Pick 4 drawings take place twice each day. The day draw takes place at 1:59 p.m., and the night draw is at 11 p.m.
Whether it's Pick 3 or Pick 4, day draw or night draw, you can choose the Fireball option. Once you do, you pick one of 10 numbers, zero to nine.
Essentially, if you use the Fireball option, you can swap out a regular number with the Fireball to match the numbers. In addition to the Pick 3 and Pick 4 payout tables on its website, the Virginia Lottery put out this video: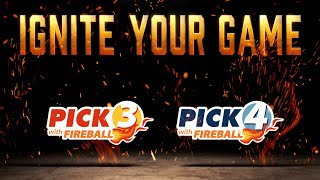 Keep in mind, though, that the Fireball payouts aren't the same as the regular ones. For example, while an exact-match Pick 3 win will earn you a $500 payout, the Pick 3 with Fireball payout would be just $200.
Where to play Pick 3 and Pick 4
You can play Pick 3 and Pick 4 at the thousands of Virginia Lottery retail outlets across the commonwealth. You can also purchase tickets at any VA Lottery self-service terminal.
However, though the VA Lottery has some games available to play on its website, Pick 3 and Pick 4 aren't included. (Only tickets for the multistate Mega Millions, Powerball and Cash4Life drawings are available online.)
Despite the new online lottery options, including instant-win games, Virginia's draw games remain quite popular. That was especially true during the Virginia Lottery's most recent fiscal year, which took place July 1, 2019, to June 30, 2020, and included the first few months of the COVID-19 pandemic.
Daily draw games (Pick 3, Pick 4 and Cash 5) accounted for 32.2% of all VA Lottery sales during fiscal year 2020. Additionally, though Pick 4 and Cash 5 saw small drops in sales, year over year, Pick 3 sales actually increased from $329.3 million in FY2019 to $336.9 million in FY2020 (+2.3%).
Now, with the Fireball option, players can experience a new twist on a classic lottery game.