As the NASCAR circus rolls into Virginia this weekend, local driver Brandon Brown helped us put together some Martinsville betting options.
This weekend's big NASCAR triple-header at Martinsville Speedway features races in the Cup, Xfinity, and Truck series.
It's going to be a wild 30 hours of racing on one of the world's most iconic short tracks.
But what if you want to do some Martinsville betting this weekend? Which drivers are worth considering? Who really understands the unique challenges of the .526-mile track?
We needed some help, and there was only one man for the job. So we asked NASCAR Xfinity driver, Virginia native, and PlayVirginia-sponsored athlete Brandon Brown for some insight as NASCAR bettors head to Virginia sportsbook apps.
Of course, we also have some options to bet on Brown himself.
Martinsville betting? First, the schedule
First things first: Let's look at the schedule for the 2021 fall NASCAR race at Martinsville Speedway in Ridgeway, VA.
This is the second-to-last race weekend for all three of NASCAR's top series. In other words, there's going to be some high-pressure, high-stakes, white-knuckle racing on Saturday and Sunday.
Here's the Martinsville Speedway schedule for this Halloween weekend:
NASCAR Cup Series: Xfinity 500
Date and time: Sunday, Oct. 31, at 2 p.m.
Broadcast: NBC
Length: 500 laps, 263 miles
Race favorite: Martin Truex Jr. (+450 at DraftKings)
NASCAR Xfinity Series: Dead on Tools 250
Date and time: Sunday, Oct. 30, at 6 p.m.
Broadcast: NBCSN
Length: 250 laps, 157.8 miles
Race favorite: Ty Gibbs (+450 at DraftKings) and Austin Cindric (+500 at BetRivers)
NASCAR Truck Series: United Rentals 200
Date and time: Sunday, Oct. 30, at 1 p.m.
Broadcast: FS1
Length: 200 laps, 105.2 miles
Race favorite: John Hunter Nemechek (+350 at DraftKings)
Claim Your $1,200 Bonus at DraftKings Sportsbook

Up to $1,200 BONUS
New User Bonus. T&Cs Apply
DraftKings Promo: Bet $5 Get $150
PLUS $50 Bonus Bet On Deposit

PLUS up to $1,000 Deposit Bonus
PLUS a Daily No Sweat Same Game Parlay
Gambling Problem? Call 1-800-GAMBLER

To Claim: Click Play Now
Cup Series: Xfinity 500 betting picks
The finale of the Virginia racing weekend takes place on Sunday (2 p.m.) with the NASCAR Cup Series' Xfinity 500.
That's the day after Brandon Brown, who will sport PlayVirginia logos on his car this weekend, races.
Brown has previously run at Martinsville, and it's been an "up-and-down thing for me," he admitted. After all, it's a truly demanding racetrack.
As Brown said:
"Martinsville is unique for so many reasons. It's a half-mile race track, which means the laps go by really fast. You're constantly on the wheel and don't have much of an opportunity to readjust your grip or catch your breath, unless it's under caution. So, short track racing is definitely physically demanding. Another thing that makes Martinsville such a unique track is the need for managing your brakes. Brake rotors get extremely hot at Martinsville, and if you abuse them, you'll most likely experience a failure which can end your race early."
Although Martin Truex Jr. (+450 at DraftKings) is the favorite to win the race, he's in danger of being eliminated from the 2021 NASCAR playoffs. The current final four include Kyle Larson (+500), Chase Elliott (+600), Denny Hamlin (+650), and Kyle Busch (+800). On the bubble are Ryan Blaney (+700), Truex Jr., Brad Keselowski (+900), and Joey Logano (+850).
Brown thinks there are some quality picks among that group of drivers.
"I think Martin Truex Jr., Chase Elliot, and Denny Hamlin will be a few to keep your eye on," he said. "Truex Jr. has quite the collection of Martinsville clocks already, and Chase won there last year. Denny Hamlin is a Virginian, so of course I have to pull for him. But he also runs really well at Martinsville and always seems to be in the mix coming to the checkered flag."
After Sunday's pivotal race, four drivers will be eliminated. The remaining final four will fight it out at next week's last 2021 NASCAR Cup Series race, the Season Finale 500 at Phoenix Raceway.
Xfinity Series: Dead on Tools 250 picks
When it comes to Saturday's (6 p.m.) NASCAR Xfinity Series' Dead on Tools 250, Brown obviously has a recommended pick: himself!
Of course, the 28-year-old Woodbridge native likes his own chances. Having a breakout year with career highs in wins (that Oct. 2 victory at Talladega), top 10s (nine), and top 5s (three).
Brown's had some struggles at Martinsville, including this year's spring race.
"We had a great top 10 run going back in the spring," he said. "Unfortunately, we had a part failure, which took us out of a competitive finish. But it's a home-state race for me, and any time that I get to race in Virginia is great. I'm really looking forward to seeing what we can do with hopefully an incident-free race."
The oddsmakers are a bit bearish on his prospects, though. Brown is +25000 at Caesars to win the Dead on Tools 250. As a 250-1 long shot, a winning $10 bet on Brown's No. 68 Chevrolet would net $2,500 in winnings.
At DraftKings, you also have the option to bet on Brown finishing in the top 5 (+1300) or top 3 (+3000).
Beyond himself, though, Brown has some additional recommendations for the race. He thinks Josh Berry (+1200 at DraftKings) is a solid option to win at Martinsville.
Looking for a longer shot? In that case, Brown likes Landon Cassill (+100000). If Cassill pulls off the improbable, a $10 bet would net a whopping $10,000 in winnings if he gets the checkered flag. At DraftKings, you can also bet on Cassill to finish in the top 5 (+2800) or top 3 (+6000).
"Landon's a veteran driver with a lot of great experience and has definitely been overperforming in my opinion for the equipment that he's in," Brown said.
Xfinity Series: United Rentals 200 picks
When it comes to Martinsville Speedway, the successful drivers have a knack for keeping calm.
"To win, you need to be able to find a good rhythm and log consistent laps, all while trying to take care of your equipment and keep the car clean," Brown said.
When it comes to Saturday's (1 p.m.) NASCAR Truck Series' United Rentals 200, Brown sees at least one driver who has the required skills: Todd Gilliland.
The 21-year-old youngster missed the Truck Series playoffs this year, but he's excelled in wins (one), top 5s (10), and top 10s (15). In fact, in 2019, he captured his first Truck Series win with a triumph at Martinsville Speedway.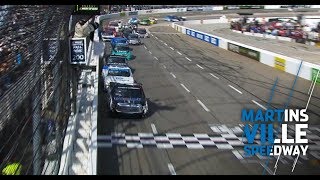 Brown thinks Gilliland can do well in what should be a frantic field of drivers.
"Saturday is a big race for those guys, and if it's anything like last year, it will definitely be a wild one," he said. "But I think that Todd Gilliland will be the one grabbing the checkered flag. He's a previous Truck Series winner at Martinsville, and his team has been showing up week in and week out. They're consistently a threat wherever the Truck Series races.
Gilland is +1200 to win Sunday's race. Other favorites include John Hunter Nemechek (+350 at DraftKings) and Sheldon Creed (+450 at BetRivers).