So, here we are.
The Washington Football Team is a full touchdown underdog to the once-lowly Cleveland Browns in NFL Week 3.
Yes, the Cleveland Browns.
In a state without a pro football team, most of Virginia has adopted the neighboring Washington club as its NFL choice. However, that loyalty hasn't exactly been rewarded in recent years.
In addition to the off-the-field issues (and, oh boy, they're plentiful), Washington has labored three losing seasons, including a miserable 3-13 campaign in 2019. Additionally, 15 years have passed since the team has last won a playoff game.
Could 2020 by the year the Washington Football Club scores its first Super Bowl championship since 1992?
Well, you can bet on it. But based on early-2020 results, including this week's spread against the Browns, you better hope you get some very favorable odds.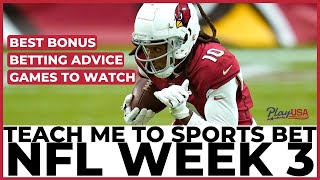 Washington vs. Cleveland Week 3 odds
Washington (1-1) takes its early-season .500 record into Cleveland (1-1) for a Week 3 matchup on Sunday (Fox, 1 p.m.). However, NFL oddsmakers and the betting public don't like the Football Team's chances.
The Baker Mayfield-led Browns opened as 6.5-point favorites, and early betting has moved them to up to -7 at most books. You can find that line in neighboring West Virginia and Washington, DC, where sports betting is legal. (Of course, the first Virginia sportsbooks should be online in early 2021 and possibly ready for the NFL playoffs.)
Among all Week 3 matchups, the Washington vs. Cleveland has the second-biggest line. Only the Indianapolis Colts (-11) vs. the New York Jets has a bigger spread.
The moneyline has Cleveland available at -295 to -345 with the comeback on Washington at +255 to +275.
Meanwhile, the total has remained relatively steady throughout the week. The over/under currently sits at 44 to 45, depending on the book. It's one of Week 3's lowest totals.
Football Team vs. Browns breakdown
Washington scored an encouraging Week 1 win over the Philadelphia Eagles, 27-17.
The team easily covered as 5.5-point underdogs thanks to a late rally that quarterback Dwayne Haskins led in the face of a 17-0 deficit. However, in Week 2, they lost to the Arizona Cardinals, 30-15, and they also failed to cover as 7-point underdogs.
Receiver Terry McLaurin has been a bright spot for Washington this season. He has 186 total yards receiving, including a 125-yard effort (with one touchdown) in Week 2 against the Cardinals.
The Browns, meanwhile, got off to a rough 2020 start with a 38-6 drubbing to the Baltimore Orioles, who were 7-point favorites. In Week 2, though, Cleveland scored a solid 35-30 victory over the Cincinnati Bengals to win the Battle of Ohio. However, they failed to cover as 6-point favorites due to a Bengals' touchdown with 46 seconds remaining.
The Browns' offense looked mostly inept in Week 1. However, quarterback Mayfield (219 yards, two TDs) running backs Nick Chubb (124 yards, two TDs) and Kareem Hunt (86 yards, one TD), and receiver Odell Beckham Jr. (74 yards, one TD) found their rhythm in Week 2's Thursday Night Football showcase.
In Sunday's matchup, Washington could score an upset if the defensive can put some pressure on Mayfield like they did to Eagles quarterback Carson Wentz in Week 1. They also need to get some early points on the board, which has been a struggle this season.
Washington Football Team futures market
Washington entered the 2020 season as one of the NFL's unlikeliest picks to win Super Bowl LV. After a 1-1 start, the odds aren't any better.
The current futures market lists Washington as 120-1 long shots (+12,000) to hoist the Lombardi Trophy at season's end. Cleveland, meanwhile, is +4,400.
As for an NFC Championship, Washington faces 90-1 odds. Only the Carolina Panthers and New York Giants face worse odds. They're both 120-1.
So, what about the NFC East? Washington's odds of winning a division title are +1,200. That's well behind the Dallas Cowboys (-200) and Eagles (+240), but ahead of the Giants (+2,100).
Other Week 3 matchups of interest in Virginia
Here's what Week 3 offers for Virginia football fans' other favorite NFL teams:
Carolina Panthers (+6.5) at Los Angeles Chargers
The Carolina Panthers (0-2) look for their first win of 2020 when they take on the Los Angeles Chargers (1-1) in a Sunday afternoon affair (CBS, 4:05 p.m.). The Las Vegas Raiders snuffed out the Panthers' late rally in Week 1. Then, in Week 2, Carolina struggled with turnovers and penalties in an uninspired 31-17 loss to the Tampa Bay Buccaneers.
Quarterback Teddy Bridgewater and the Panthers are getting 6.5 points against the Chargers, but they'll be without one of their key weapons: running back Christian McCaffrey, who's sidelined with a high ankle sprain.
Tennessee Titans (-2.5) at Minnesota Vikings
The Tennessee Titans (2-0) are undefeated, but they edged the Denver Broncos by just two points in Week 1 and the Jacksonville Jaguars by only three in Week 2. On Sunday (CBS, 1 p.m. EST), the Titans take on the Minnesota Vikings (0-2), who are better than their winless record might indicate.
Titans quarterback Ryan Tannehill (448 yards, 6 TDs, zero interceptions) is off to a promising start. However, to get the win and cover the 2.5-point spread, Tennessee needs star running back Derrick Henry (3.6 yards/carry) to return to that phenomenal late-2019 form that carried the Titans into the AFC Championship game.