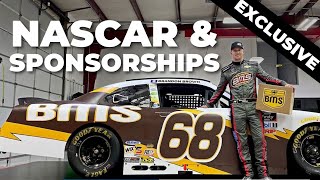 Look, we're now obviously a biased party, but there's a lot to learn about NASCAR sponsorship from Xfinity Series driver Brandon Brown.
After all, we're sponsoring the Virginia native for this weekend's race.
More specifically, PlayVirginia.com is one of Brown's sponsors for Saturday's Go Bowling 250 at Richmond Raceway (2:30 p.m., NBCSN). The 27-year-old Woodbridge native, who this year has put together the best season of his NASCAR career, will have some other sponsors for his No. 68 Chevrolet.
The Original Larry's Hard Lemonade Brewing Co. will be on his trunk lid. Trade the Chain, a cryptocurrency trading platform, will be on his hood. And PlayVirginia.com has the quarter panels.
A gaming company, a specialty alcohol brand, and a crypto upstart?
When you're forced to hustle for each NASCAR sponsorship, as the Brandonbilt Motorsports team does with real flair and creativity, you tap into categories that other teams might dismiss.
Brandonbilt Motorsports on NASCAR sponsorship
This is just the third full season that Brandonbilt Motorsports, Brown's Fredericksburg, Va.-based team, has been able to compete full-time in the Xfinity Series. Before graduating from Coastal Carolina University in 2018, Brown ran a part-time Xfinity Series and Truck Series schedule when not in the classroom.
Part of the reason he's been able to make it a full-time go this year is because of sponsorships.
They're vital – no more so than this year. Just a year prior, NASCAR, as well as racing's sponsorship industry, were spinning its wheels. The COVID-19 pandemic helped further freeze some already-cold feet.
As Mac MacLeod, who heads up marketing and sponsorships at Brandonbilt Motorsports, said:
"We had several conversations with different companies that said they'd love to partner with us, but then they decided to hold off once NASCAR announced their shutdown in 2020. Then, leading into this season, we were not in a comfortable position early on as the impact of COVID-19 really took its toll on a lot of our returning partners, and a few were actually forced to withdrawal from sponsorship, which left a large hole for us to fill."
Thankfully, though, the team flexed its creative muscle. A hilarious plea for sponsorships became a viral sensation (we'll have more on that topic on Friday).
Then, coupled with a breakout year in which Brown and crew chief Doug Randolph have already posted career highs for Top 10s and Top 5s, some of his sponsors returned. New ones, including PlayVirginia.com, also hopped aboard. Now, the team has sold out of primary sponsorships for the remainder of the season, and just a handful of associate sponsorships (like the one with PlayVirginia) remain.
"Hopefully the elevation in Brandon's notoriety this season and people starting to take notice of what we've been able to accomplish as a team, both on and off the track, will help us as we continue to look ahead at 2022," MacLeod said.
Sportsbooks and the future of NASCAR sponsorship
With the spread of legal sports betting throughout the US, NASCAR betting has also seen an uptick. Brown and drivers from NASCAR's other top series (Cup and Truck) have seen and experienced it firsthand.
"It is more noticeable, which is I think is a great thing," Brown said. "The more buzz, excitement, and eyes we can get on our sport, the better. And sports betting has really embraced NASCAR and the different ways you can bet on a race, aside from just picking the winner.
"It's great that my home state of Virginia has adopted it, and it's great to be able to bring some attention to all that is going on there by partnering with PlayVirginia.com."
PlayVirginia.com is no Coca-Cola. We're not UPS or M&Ms or Target or one of the other familiar mega brands you see adorning the cars of NASCAR's biggest names.
We're essentially an affiliate gaming company with a special focus on sports betting. Some major sportsbook companies, including BetMGM, WynnBET, and Barstool Sportsbook, have already jumped into NASCAR in various capacities.
Is it time that those gaming giants look a little closer at sponsoring individual drivers and teams?
"Sports betting is here to stay, and I think that there's unlimited potential in NASCAR for sportsbooks," Brown said. "I know Richmond and Martinsville have already taken steps to provide fans at the track with an added feature and ways to engage, which is great. So, hopefully by partnering with PlayVirginia.com, we can get the industry even more engaged.
"I'd love to have a sportsbook on board, so let's make it happen!"
Caesars offers Odds Boost for Brandon Brown
For his hometown race, Caesars Sportsbook is offering a special Odds Boost for Brandon Brown at the Go Bowling 250.
For Saturday's race, you can bet on Brown to finish in the top 10. The odds have been boosted from +800 to +900.
Get up to $1,000 at Caesars Sportsbook
1
$1,000 first bet
On Caesars
Up to $1,000 Back as a Bonus Bet if Your Bet Loses
Stream NFL Games In-App for Free

21+ Gambling problem? Call 1-800-GAMBLER

Use Promo Code: LEGAL1000

So, if you bet $10 on Brown to finish in the top 10 and he pulls it off, you'll net $90 in profit.
Is it a good bet, though? Would Brandon Brown the bettor make a wager on Brandon Brown the driver at those odds?
"Always bet on yourself, right?" he joked. "In all seriousness, the NASCAR Xfinity Series field this year is so competitive, and Dale Earnhardt Jr. is coming back at Richmond for his one-race-a-year deal, so it's going to be another tough field of drivers. But I know if we go out there and perform like we can, we'll definitely be making folks some money."