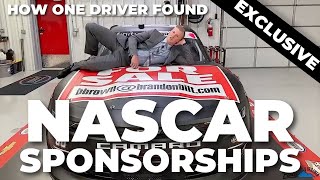 So, how did PlayVirginia.com end up sponsoring NASCAR Xfinity Series driver Brandon Brown?
As we wrote on Thursday, PlayVirginia.com is an associate sponsor for Brown's Brandonbilt Motorsports team for this weekend's Go Bowling 250 at Richmond Raceway in Virginia.
PlayVirginia.com logos will adorn Brown's No. 68 Chevrolet as the 27-year-old Virginia native looks to make the Xfinity Series Playoffs.
We even worked with Caesars Sportsbook to get a special Brandon Brown Odds Boost for the race.
Get up to $1,000 at Caesars Sportsbook
1
$1,000 first bet
On Caesars
Up to $1,000 Back as a Bonus Bet if Your Bet Loses
Stream NFL Games In-App for Free

21+ Gambling problem? Call 1-800-GAMBLER

Use Promo Code: LEGAL1000

PlayVirginia.com obviously is not big in the sponsorship game. However, we do enjoy a little razzle-dazzle. A little showmanship. Some creativity. And, if we're being frank, an abundance of unabashed corniness.
So once we saw a recent viral video from Brown and his team, we knew he was our guy.
A used-car salesman among the NASCAR Xfinity ranks
Back in June, Brown was the buzz of the NASCAR world when a video went viral (check it out above).
The Woodbridge native, whose team is based in Fredericksburg, has enjoyed the best season of his career. He's also knocking on the door of a potential postseason berth if he can claw up a few spots in the NASCAR Xfinity standings over the next two races.
Still, sponsorships weren't always easy to come by despite the on-track success.
"Myself and Mac MacLeod, who handles all of our team communications and marketing, got together and thought, 'Let's do something unique, something that if we're running good and the announcers talk about us, they might show the signage and think to mention it on the race broadcast to help us find sponsorship," he said.
The announcers, in fact, did talk about it. The FS1 commentators talked it up one week, and then when the Xfinity Series made its midseason shift over to NBCSN, those broadcasters also gave it some shine.
Brown hoped to draw a little attention to his team. He far exceeded that small goal. As he said:
"The whole goal of the video was to make it as cheesy as possible to try and play the humor angle to attract attention. But we had no idea that it was going to get nearly as much publicity as it did. I was actually out on my bike after posting it, and my phone would not stop buzzing. So I thought that something was wrong and had to cut my ride short to see what all of the fuss was about."
MacLeod fondly remembers that week, too.
"We had over 2.2 million impressions on Twitter alone from the video," he said. "In fact, Brandon actually needed to get extra storage for his email inbox as literally hundreds of emails started pouring in within a few hours of the video being live on social media."
Benefits of going viral
The video was a success. Brandonbilt Motorsports has sold out of primary sponsorships for the remainder of the season. Just a few associate sponsorships, like the one PlayVirginia.com signed for Saturday (and the Oct. 30 race at Martinsville Speedway), remain.
So, at least for now, the team is in good shape from a dollars-and-cents perspective. But just as importantly, MacLeod said, the video served another key purpose.
"I think that the video allowed Brandon's personality to shine in a sport where every driver is trying to make a name for themselves," he said. "I feel like another successful video that we recently did for a new associate partner, Haymaker Coffee, is another great example of the type of personality that Brandon has.
"It hopefully shows companies that are possibly interested in getting involved in racing some of the perks to partnering with Brandonbilt Motorsports and the potential for exposure that's out there through our content creation."
Thankfully, Brown seems to have quite the wardrobe for this type of work. He's also got the willingness to put himself out there, which is one reason PlayVirginia.com wanted to join the team of a local driver. And he's got a loyal fan base, as many NASCAR drivers do.
Of course, Brown also has the acting chops – stunt work and all – for this type of work, as he learned with the sponsorship video.
"What I'm most proud of is that we knocked out the filming of the video in one take – garbage-can leg kick and all!" he said with a laugh.